Spark U is a learning collaborative for Spark innovators, designed to support your journey from innovation development to planning for sustainability.
Based on positive feedback from previous Spark project leads, we are pleased to offer the incoming 2019-2020 cohort of Spark innovators the option to participate in this virtual learning collaborative.
Curriculum content will be informed by a learning needs assessment and problems identified by participants. We'll cover topics like:
Innovation
What is innovation, and how do I 'do' it?
How do I foster innovation in my organization?
How do I identify stakeholders and get buy-in?
What to expect on the journey
What are intellectual property considerations?
How do I develop an implementation action plan?
How do I create an implementation team?
How do I monitor and evaluate implementation efforts?
Sustaining beyond Spark
How do I develop a business model?
How can I access other funding sources?
Date + Time
Session
Topics
Jan 21 2020
12:00 – 1:00pm EST
Session 1

How do I get buy-in for my project?

Resources:

Feb 25 2020
12:00 – 1:00pm EST
Session 2

How do I create a culture of innovation?

Resources:

Mar 24 2020
12:00 – 1:00pm EST
Session 3

How do I create an implementation team and start planning?

Resources:

Apr 21 2020
12:00 – 1:00pm EST
Session 4

What's intellectual property and why should I care?

Resources:

May 26 2020
12:00 – 1:00pm EST
Session 5

What is my business model?

Resources:
Shusmita Rashid, MPH
Shusmita engages a broad range of stakeholders and organizations to facilitate early adoption of innovations. She has over 8 years of experience using Implementation Science to develop, implement, evaluate and sustain evidence-based practices, programs and policies.
As the former Research Manager of the Team for Implementation, Evaluation and Sustainability in the KT Program at St. Michael's Hospital, Shusmita has coached over 20 organizations and provided tailored technical assistance to 16 large scale research projects.
She is a co-developer of Practicing Knowledge Translation, a University of Toronto accredited course to build implementation core competencies and has delivered 12 KT workshops for researchers, clinicians and system decision-makers. These include workshops to facilitate the implementation of Canadian Partnership Against Cancer (CPAC) funded projects, Michael Smith Foundation for Health Research (MSFHR) grants, and WHO's maternal guidelines in Ethiopia and Uganda.
Contact: srashid@cabhi.com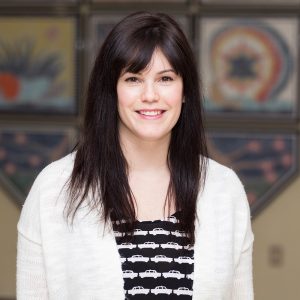 Stacey Guy, PhD (C)
Stacey supports innovators and organizational stakeholders to build capacity in end-user engagement, dissemination, implementation and sustainability.
Stacey coordinates CABHI's community engagement activities with a variety of stakeholders, with a specific focus on engaging diverse communities including people living with dementia, caregivers, seniors, and Indigenous people. She has over 10 years of experience working with health care professionals and researchers within the Canadian health care industry.
Contact: sguy@cabhi.com
Spencer Giffin
Spencer works to support CABHI funded projects in creating sustainable business models by which they can create healthcare system efficiencies and improve clinical outcomes within Canada and internationally.
Spencer's career has focused on supporting innovators and start-ups. His experience includes spinning out companies from academic institutions, to supporting growing and scaling companies at the world's largest innovation hub. Spencer has supported healthcare innovators throughout their journey from an idea to sustainability and scale.
Contact: sgiffin@cabhi.com